The Geneva Golf Club men's member-guest tournament that started out with 60 two-person teams was dwindled d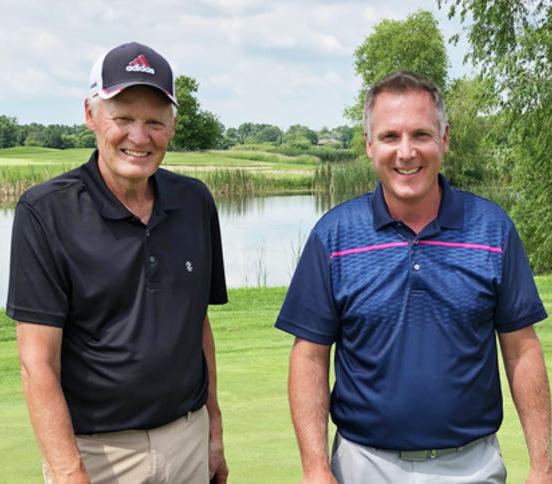 own to 13 on Saturday afternoon in front of a nice gallery of spectators.
For many of these players, this is a chance to get the competitive juices flowing in what golfers always say is a fun atmosphere. Alexandria's Jerry Swedberg and Owatonna's Doug Lundstrom have played together in this tournament for three years, so they know how to handle some of the nerves.
"Last year was the first time we had (made the shootout), and it was pretty nerve wracking," Swedberg said. "This year, both of us when we got done we talked about it, it was like everything was blocked out. We were just over the ball, hitting the ball. It really didn't bother either of us until we were all done and kind of realized what happened."
What happened is Swedberg and Lundstrom had completed a win that they had all but given up on just two days earlier.
The member-guest tournament is a three-day event. June 21 and 22 were full qualifying days where teams play matches in a round-robin format against other duos in their flights. Each hole is awarded points - one for a win, half a point for a tie. The winner of each flight and three more wildcard teams then enter into a final six-hole shootout to determine a club champion.
Swedberg and Lundstrom thought they were out of it after day one. The brother-in-laws were fifth out of their six-team flight and just did not like the way they had played.
"We both left Thursday kind of feeling like, well at least we're out here playing golf," Swedberg, a member at Geneva for four years, said. "We're not going to do very well, but at least we're going to have some fun together playing golf."
That approach allowed them to clear their minds on day two. They started their run up the leaderboard in their flight and completed it on the morning of the final day, winning their flight and sending them into the shootout with a little confidence.
That shootout started with 13 teams. Duos are eliminated on each of five holes until two teams are left standing going into the sixth.
Swedberg and Lundstrom were up against Chris Wessel and Ron Johnson with the championship on the line. Lundstrom's tee shot traveled into the right hazard - long fescue grass - that left Swedberg needing to make a big shot in the alternate-shot format.
"It was about 165 yards out," Swedberg said. "It never even crossed my mind to punch the ball out into the fairway."
Players really cannot afford to be conservative at this point in the tournament. Not in what is now a sudden-death format against the other team.
"I guess the whole time my thought was I have to go for the fat part of the green," Swedberg said. "Try to hit the best shot I can and thankfully it came out of there pretty clean. It went a little farther left than I had hoped but actually worked out better."
The ball landed and traveled past the pin to leave them with a near 15-footer for birdie. They two-putted the hole to win the championship with a par.
Swedberg, 54, and Lundstrom, 66, have been playing partners in different sports since they were kids but do not get to play as much golf together as they would like with them living a few hours apart. That's why this three-day run through the tournament was so fun for both of them.
"I think both of us were very, the word I think is shocked," Swedberg said. "I can't believe we went from a last-to-first type of thing. It was pretty special. I don't think either one of us has had anything like that before, so it was good to win together. Being family, being a brother-in-law, it was pretty special."